2020 NISSAN GT-R
The 2020 Nissan GT-R for sale at Grubbs Nissan in Bedford, TX - close to Dallas, Fort Worth, Arlington, Irving, and Grapevine - has the power to let you command the road. The standard 3.8L DOHC twin-turbocharged V6 engine produces an amazing 565 hp and 467 lb.-ft. of torque, but the available NISMO
®
-tuned 3.8L DOHC twin-turbocharged V6 generates a breathtaking 600 horsepower and 481 lb.-ft. of torque. Both engines come paired with a dual-clutch 6-speed transmission with steering wheel-mounted paddle shifters to let you take control of your drive. Make an unforgettable arrival in this sports car's sleek profile, accented by a body color rear spoiler, titanium exhaust, and 20-inch, RAYS
®
forged alloy wheels. Meanwhile, inside you'll be surrounded in racing-inspired style, featuring carbon fiber and machined aluminum interior trim. Standard Bluetooth
®
gives you hands-free access to phone calls, text messages, and music streaming for convenience you'll love.
It's a great time to buy a new Nissan! Our 2020 inventory is here and we can't wait to help you find the 2020 Nissan GT-R you've always wanted. Visit the showroom at 310 Airport Freeway in Bedford, TX to take your test drive today!
DESIGN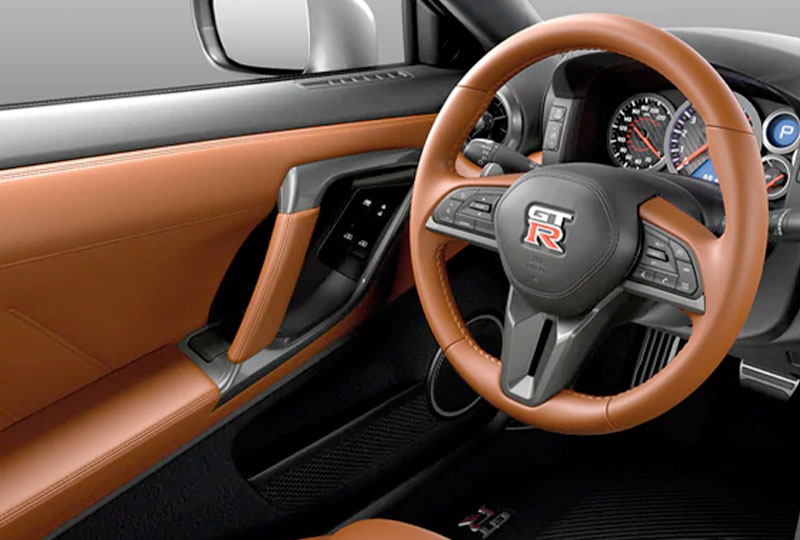 HOLDS ON TIGHT
The GT-R's Sport seats feature deep bolsters to help hold you in place, even during aggressive cornering. Supple leathers and 8-way adjustability mean great comfort on track or your daily commute.
PERFORMANCE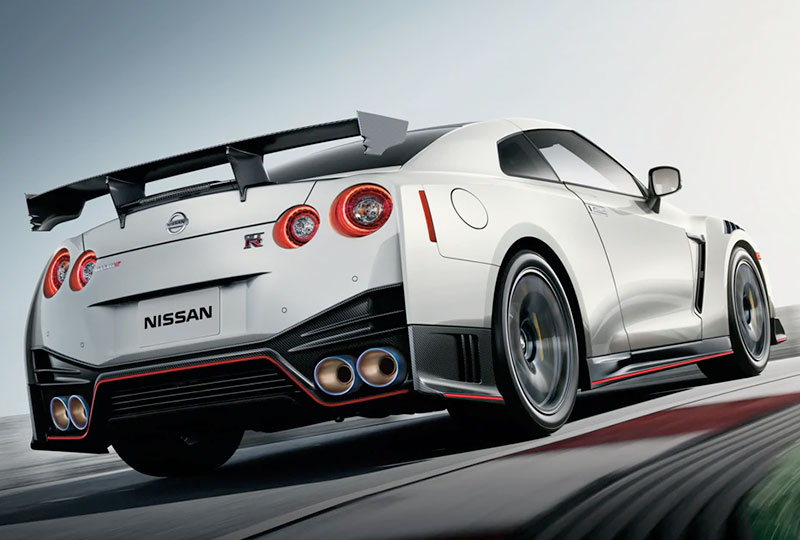 THE HEART OF A LEGEND
Nissan challenged convention at every point of the Nissan GT-R's development. Instead of a large, heavy engine thirsty for fuel, the Nissan GT-R is powered by an ideally sized, twin-turbocharged 3.8-L V6 that produces a prodigious 565 hp and equally immense 467 lb-ft of torque. Just as important as the engineering is the actual assembly, which is done by hand by a single master craftsman, whose signature you'll find on a small but prominent plaque. [*]
SAFETY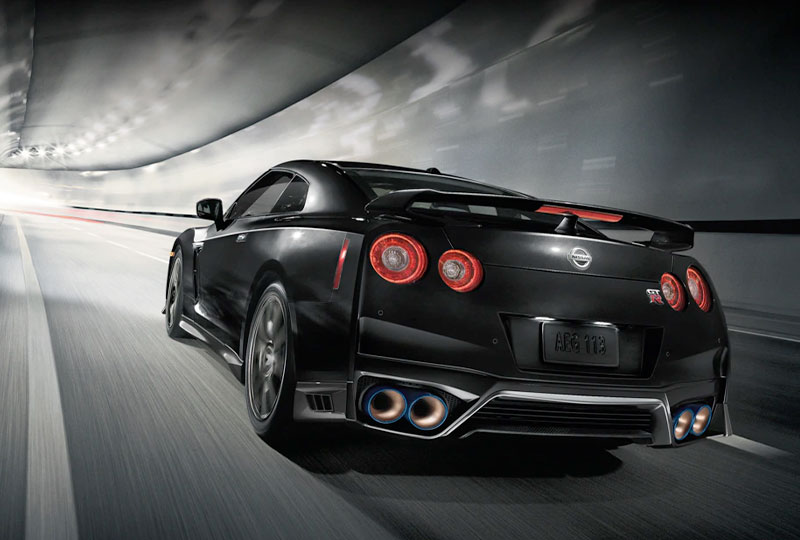 THE TOTAL PACKAGE
Nissan takes a comprehensive approach to safety that guides the engineering and development of every car we make. It helps keep an eye on your vehicle's systems, assists you in handling unexpected situations, and helps protect you in the unfortunate event of an accident.[*]
TECHNOLOGY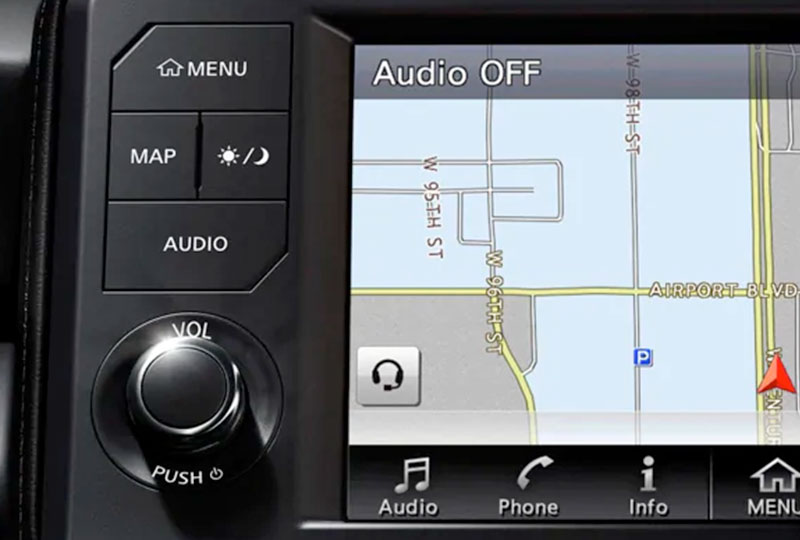 AN EXHILARATING CONNECTION TO YOUR WORLD
From advanced navigation to leading-edge connectivity, Nissan Intelligent Mobility™ offers a multitude of technologies as expertly crafted as your Nissan GT-R. Staying connected is easy - NissanConnect puts everything important to you on the 8" touch-screen display [*][*][*]
Price is Manufacturer's Suggested Retail Price (MSRP). MSRP excludes tax, title, license, options and destination charge. Dealer sets actual price. Premium models: 565 hp and 467 lb-ft of torque. Track Edition and NISMO models: 600 hp and 481 lb-ft of torque. Availability of features vary by vehicle model year, model, trim level, packaging and options. Please see Owner's Manual for important feature information. Never program while driving. GPS mapping may not be detailed in all areas or reflect current road status. Feature availability is dependent on vehicle model, trim level, packaging and options. Compatible connected device may be required and feature availability may be dependent on device's capability. Refer to connected device's owner's manual for details. Late availability for some features. Driving is serious business and requires your full attention. Only use features and connected devices when safe and legal to do so. Some features, including automatic crash notification and SOS, are dependent upon the telematics device being in operative condition, its ability to connect to a wireless network, compatible wireless network availability, navigation map data and GPS satellite signal receptions, the absence of which can limit or prevent the ability to reach Customer Care or receive support. GPS mapping may not be detailed in all areas or reflect current road status. Never program GPS while driving. Only use Remote Engine Start and Remote Horn features in accordance with any laws, rules or ordinances in effect in your vehicle's location. Some services and features are provided by independent companies not within Nissan's control. Should service provider terminate or restrict service or features, service or features may be suspended or terminated without notice or with no liability to Nissan or its partners or agents. Services and features may require compatible cellular network provided by independent companies not within Nissan or its partners' or agents' control. Cellular network signal strength may vary and may not be available in all areas or at all times. Services and features may not function if cellular network is unavailable, restricted, or terminated. Nissan and its partners or agents are not responsible for associated costs or other third party changes that may be required for continued operation due to cellular network unavailability, restriction, or termination (including equipment replacements/upgrades, if available, or roaming charges on alternative networks). Technology is evolving, and changes by independent companies are not within Nissan's or its partners' or agents' control. Enrollment, owner consent, personal identification number (PIN), and subscription agreement may be required to receive full suite of features and services. Trial periods (if applicable) begin on the date of vehicle purchase or lease of a new Nissan. Trial periods may be subject to change at any time and may be subject to early termination without notice. Required subscriptions may be sold separately for each available feature or service after trial period ends, and may continue until you call service provider to cancel. Installation costs, one-time activation fee, other fees and taxes may apply. Fees and programming subject to change. Feature may be subject to age restrictions in some areas. Subscriptions governed by service provider's subscription agreement, terms and conditions and privacy statements available at service provider's website. Text rates or data usage may apply. The Nissan names, logos and slogans are trademarks owned by or licensed to Nissan Motor Co. Ltd. or its North American subsidiaries. Other trademarks and trade names are those of their respective owners. Terms and conditions of Subscriber Agreement apply. NissanConnect EV features are provided by Nissan North America. Sirius XM Connected Vehicle Services Inc. ("Sirius XM") partners with Nissan North America to provide NissanConnect Services powered by SiriusXM. All stated terms, disclosures and limitations of liability associated with connected vehicle services extend to Sirius XM and its affiliate, Sirius XM Radio Inc. SiriusXM is a registered trademark of Sirius XM Radio Inc. For important safety information, system limitations, and additional operating and feature information, see dealer, owner's manual, or www.NissanUSA.com/connect/important-information.